TikTok is a very popular short video app with tons of funny, funny and creative videos. However, if you want to enjoy these videos in an offline environment, or if you want to share these videos on other platforms, you need a powerful download tool to help you. Snaptik is a great choice! (snaptik)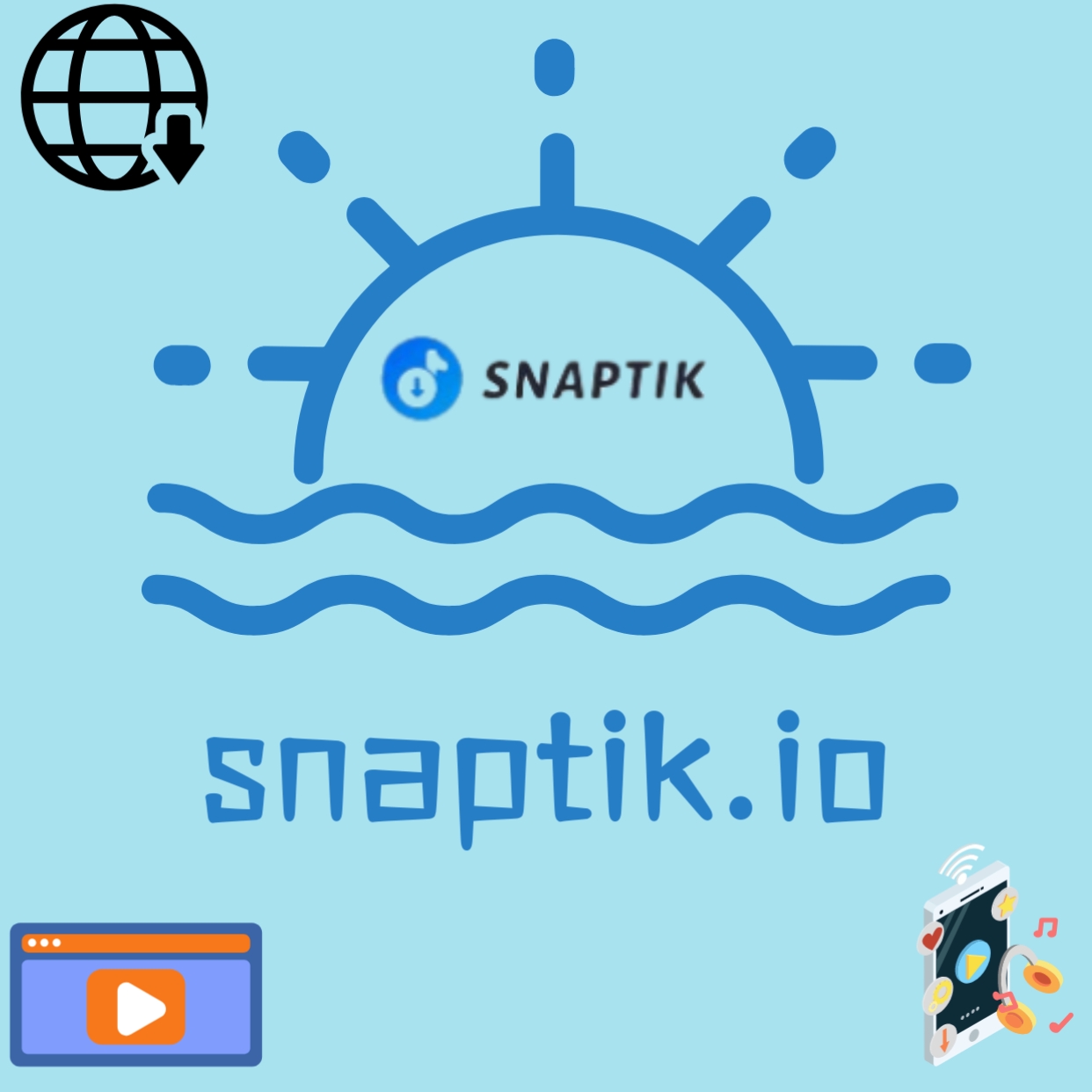 What are the functions and features of Snaptik?
Snaptik is a versatile app for downloading TikTok videos online. It offers users a number of amazing features and features, making it easy to download and share TikTok videos in HD. In this article, we'll cover Snaptik's functionality and features in detail.
Download TikTok videos.
Snaptik is a powerful TikTok video download tool that allows users to download their favorite TikTok videos, both their own and those of others. Users simply copy the video link and paste it into the Snaptik app to start downloading. That way, you can enjoy TikTok videos anytime, anywhere.
Remove watermark.
TikTok videos are often watermarked, which may be unwanted for some users. Snaptik gives you the ability to unwater mark TikTok videos, giving you complete freedom to use your video content.
Lossless picture quality and HD download
Snaptik is a very powerful download, and it can download TikTok videos in lossless quality and in HD. This means you can download TikTok videos of the highest quality without worrying about video quality loss.
Bulk download and unlimited download
Snaptik supports bulk downloads, which means you can download multiple TikTok videos at once. In addition, Snaptik also supports unlimited downloads, allowing you to download as many TikTok videos as you want.
High speed download and free download
Snaptik is very fast to download, allowing you to download lots of TikTok videos in a short amount of time. Plus, Snaptik is completely free, so you can download TikTok videos anytime, anywhere, without paying a fee.
How to Download TikTok Videos using snaptik? (tiktok download)
Here's how to use it:
Step 1: Open TikTok, find the TikTok video you want to download, click "Share," then click "Copy link."
Step 2: Open a browser, search: snaptik.io, go to our official website snaptik.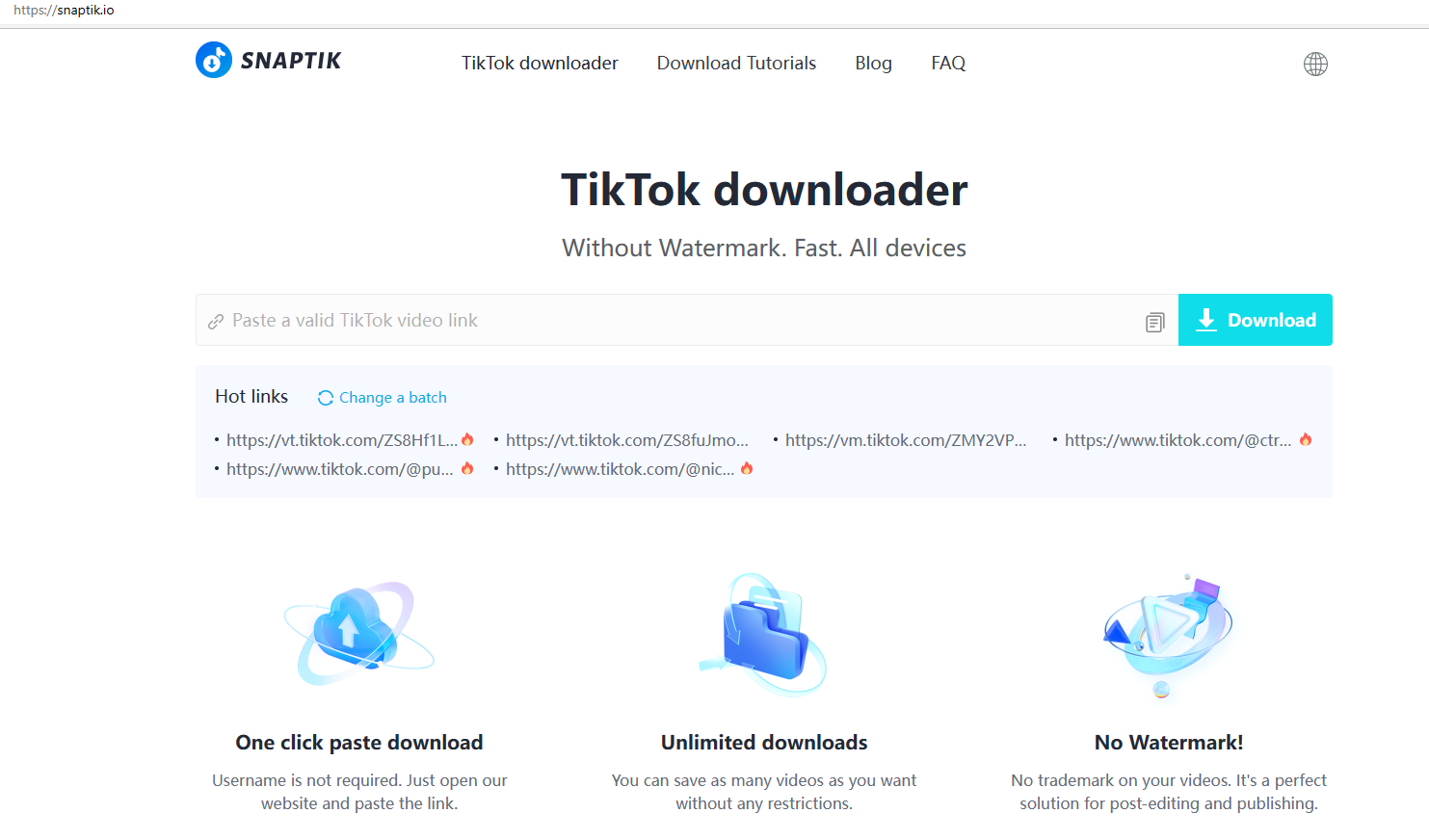 Step 3: Paste the copied video link into the specified search text box and click "Download".
Step 4: Wait for the server to finish working, you can download the video you need.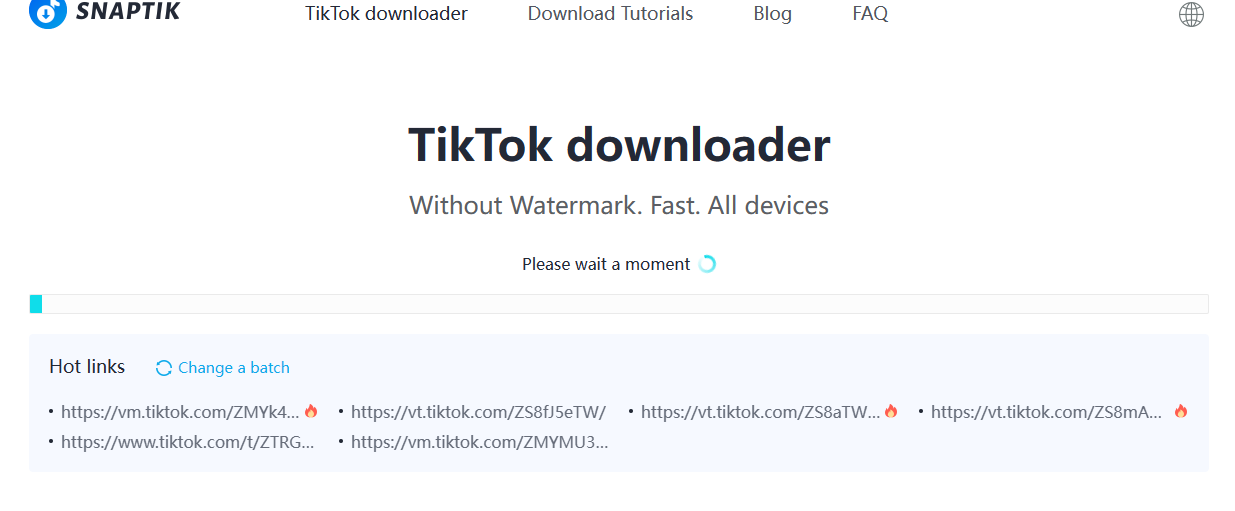 Note:
-Be careful when using snaptik. If you are downloading a video for creative purposes, be sure to obtain permission from the original video's author before downloading the video to ensure that you do not infringe copyright. Avoid legal disputes.
-If the link to download the video is invalid, the video may have been deleted or set by the author to be private only. At this point you can only use the download link for another video or wait for the author to republish the video.
-When using, if you encounter other errors or are unable to download this video, please contact us: our email address
Overall, Snaptik is an excellent TikTok video download tool, with a wealth of features and features that make it easy for you to download and share high-quality TikTok videos. If you're a TikTok fan, Snaptik is definitely a tool you can't miss. (tiktok download)