TikTok has become one of the world's most popular short video apps, with hundreds of millions of active users and a vast collection of videos. These videos provide a wide range of creative space, allowing you to create again and gain more audience and revenue. However, there are a few essential tools that you need to do this, and one of them is snaptik.
(snaptik)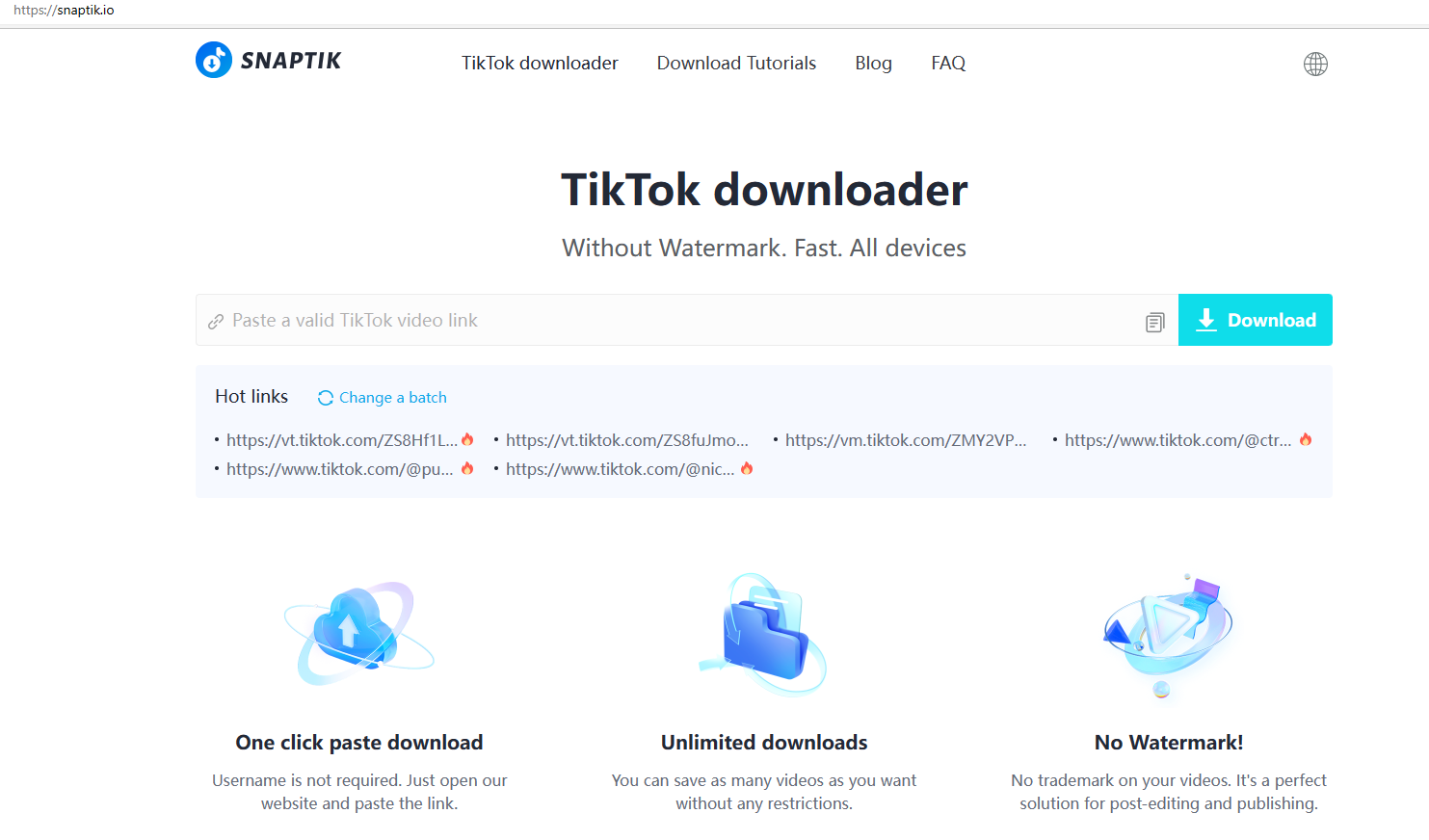 Snaptik is a free TikTok video download tool that lets users download TikTok videos and remove watermarks, making it easier for users to create or save them. Snaptik is as easy to use as pasting a TikTok video link onto a website to download high-quality videos. In addition, Snaptik has a bulk-download feature that allows you to download multiple TikTok videos, with the option to choose the quality and format of the videos.
Snaptik has higher download speeds and better video quality than other download tools. It also works on a variety of devices, including PCS, phones and tablets. So Snaptik is a very practical tool for those who often need to download TikTok videos for secondary creation or bookkeeping.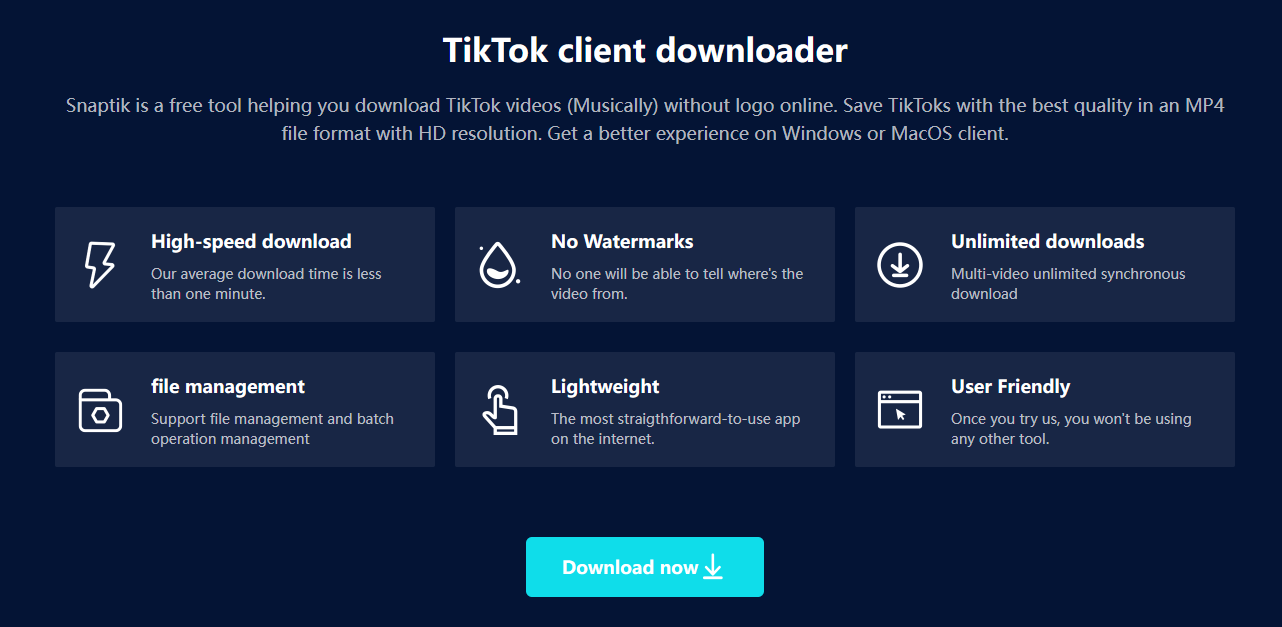 Snaptik is a free TikTok video download tool that helps you quickly download TikTok videos and save them to your phone or computer without watermarking. Snaptik has the following advantages:
1. Easy to use: Snaptik is as simple as copying and pasting a link to a TikTok video to start downloading. It works for all users and requires no expertise.
2. Waterwaterless downloads: Snaptik lets you download TikTok videos without watermarks, which is an important requirement for secondary creation.
3. Hd video download: Snaptik lets you download HD videos so that you can maintain high quality for secondary creation.
4. Free to Use: Snaptik is a completely free tool that requires no payment or personal information.
How can I use Snaptik to create secondary creations?
Step 1: Open a browser and visit snaptik.io.

Step 2: Copy links to TikTok videos you're interested in.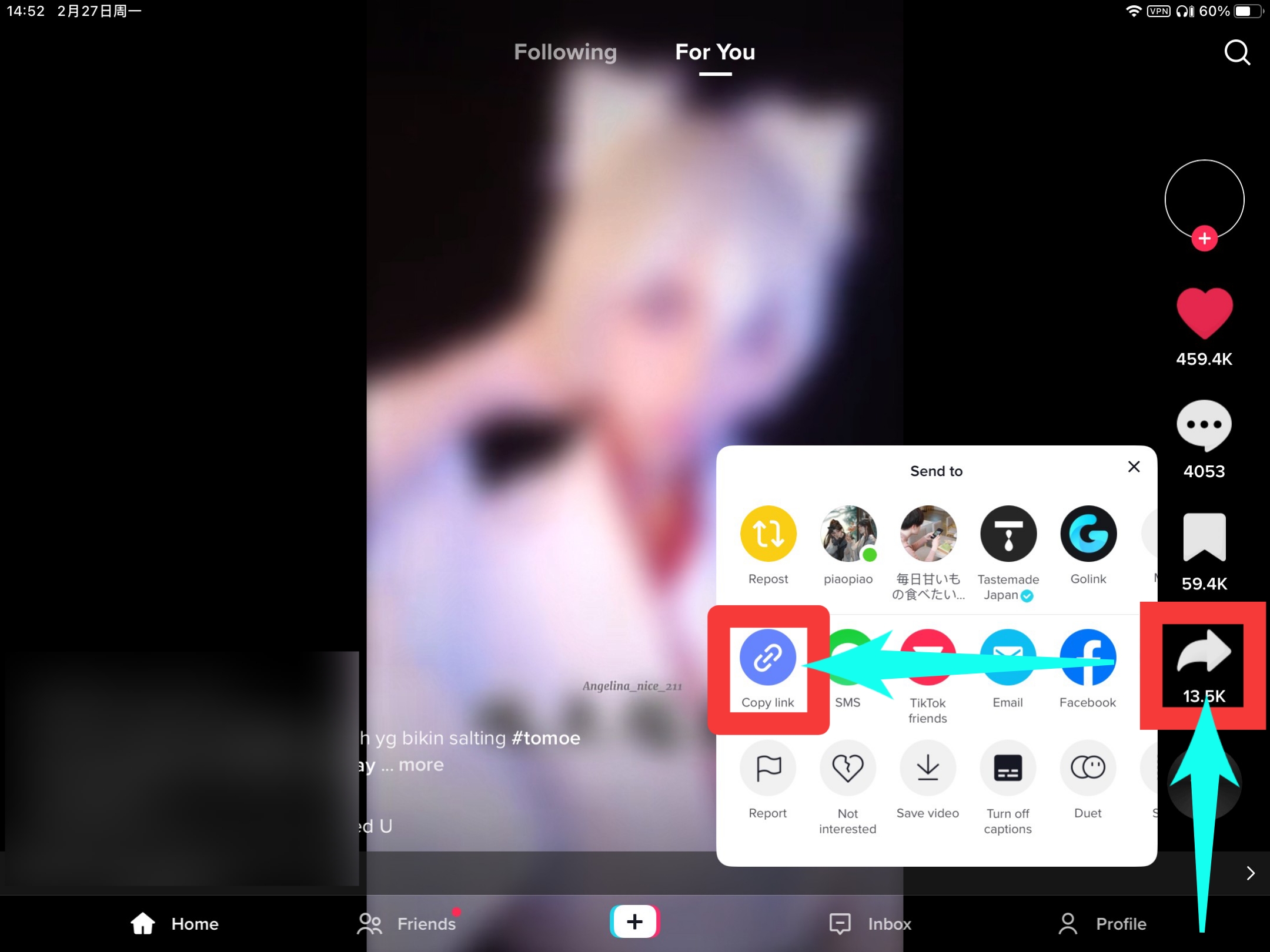 Step 3: Go back to your browser, paste the link into the text box on the homepage of snaptik's official website, and click Download.

Step 4: Wait for the video to download.
Once the video is downloaded, you can import it into your favorite video editing software and create it again.
Snaptik makes downloading and saving videos from TikTok incredibly simple, so it's a must-have tool for every video clip blogger and creator. With Snaptik, you can easily turn TikTok videos into your own material, re-create them and earn more money.
In short, if you're a secondary creator or collector of TikTok videos, Snaptik is definitely a must-have tool. It helps you easily download high-quality TikTok videos and removes watermarks so you can create or bookmark them again. (tiktok download)
NOTE:
- If the link to download the video is invalid, the video may have been deleted or set by the author to be private only. At this point you can only use the download link for another video or wait for the author to republish the video.
- When using, if you encounter other errors or are unable to download this video, please contact us: our email address